A Clearer Mirror
online co-production Klaus E. Dietl and Rawan Roshni
International art exchange, May 2020, supported by the Goethe Institut (Amman, Jordan)
In April 2020 the Goethe Institut in Amman (Jordan) was looking for Jordan and Germany based artists who are interested to be matched (pairs) with an artist from the respective other country in order to jointly produce a work of art, whether it is a song, a performance, a poem, a video, a game or a series of pictures through digital communication and exchange. Klaus E. Dietl and Stephanie Müller have been chosen to be part of this online co-production.
www.goethe.de/ins/jo/de/kul/sup/cop.html
In May 2020 Klaus E. Dietl was working on the collaboration A Clearer Mirror together with his fellow artist Rawan Roshni, a bilingual musician and performer based in Amman.
"To find one another
To find yourself in the other
A clearer mirror
That could bring us nearer
But what if you see,
that theres no you or me
And what if you feel,
that none of this is real."
(verse by Rawan Roshni)
Introduction of collaboration
An encounter on the surface of the screen. As the artists, Rawan Roshni, Amman, and Klaus E. Dietl, Munich, have never met, they try to create an encounter as intimate and authentic as possible. They have never met as figures/persons in a room and maybe never will. A face-to-face encounter would usually imply much more information about each other than the flat image screen could represent; like posture, smell and little gestures.
So what do artists miss in times of social distancing in a global pandemic lockdown? They both do feel a huge lack in the bottom line of making art that is for sure. They've decided to take a closer look at what it is and to let their different fields of art meet as compressed online interactions.
Art and culture is determined by the way of perceiving self and space relatively to one another. An online screen does not convey social space and is a veil from which the self can reveal only what it wants to. In the world of new media that this generation is about to explore globally, time and space changed so drastically like never before in the history of mankind. Space almost vanished, time stands still. Distances in space almost doesn't matter anymore, but distances between people grew and also shrink paradoxically. Therefore the artists want to create an audio-visual piece where they try to meet in a very personal place that would usually only be reserved for one to see in solitude.
Concept for creation
Who are we when we look into a mirror? Social media turned us in to our own audience. We expend a lot of energy in staging ourselves for an imaginary other. Suggestions almost displaced accuracy. We are longing for roles in the sense of myths, total engagements and are searching for a formula to get into the universe itself. Media itself projects onto human beings as screens: we are the screens, images enclose us.
But if we dare to look into a mirror for a longer period of time, who will look back at us? What if we start to see the other there? Would it be frightened or surprisingly relieving?
We wish to use the motif of reflective surfaces throughout the visuals – seeing our faces in a dusty mirror, a clear mirror, a vase that distorts size and shape, a cracked/broken mirror that shows facets of the self-refracted, or the glass of a window in which we see the world inside our skin, looking at the mirror with a nude face, then putting on makeup and taking a "selfie", using filters to achieve "perfection", or going online to perform for others, then taking that makeup off, going back to being alone with the mirror, reflection in collection of water showing motion and distortion, our face on a screen when we speak and how we position the camera to show/hide something. We will use DSLR cameras, as well as recordings from cell phones and laptops for the "virtual mask", and experiment as well with a pinhole technique on the lens that can give a sense of melancholy or nostalgia.
For the audio of this piece, we wish to use sounds that surround us in these times of quarantine, sounds we hear from our homes in our respective cities, as well as the sound we ourselves make – breath, sigh, laugh, cry, humming, speaking in Arabic, German and English – sampling the sounds together into a soundscape using also the variety of instruments Rawan has from wind chimes to a singing bowl, a drum and a shaker, a guitar – building up into something that ends with melody and lyrics – namely the verse above and perhaps some more poetry as well.
We also want to do some staged shots like being alone in the street in a dramatic lighting, symbolic shots that can express the emotion being felt when looking in the mirror, almost like the experience inside the mind when perceiving and reacting and processing.
The ideas are flowing, concepts developing, and a relationship building based on inspiration and common human experience.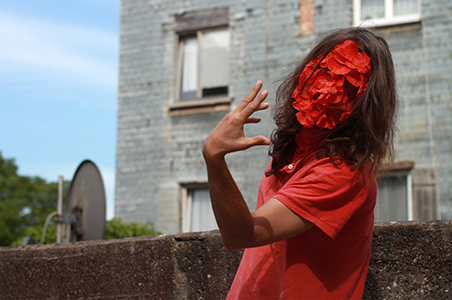 Photo: Mediendienst Leistungshölle
The artists
Rawan Roshni is a Palestinian woman born in Kuwait and raised between Jordan and Canada. She began building her career as an artist 8 years ago when she founded the first Reggae band in Jordan in 2012. She then co-founded an interactive world music project named SemaZen in 2014, recording an album and touring in the MENA region (Egypt & Tunisia). She released her first original single in March 2020 with a music video that she produced and directed. She writes bilingual songs and bridges cultures and challenges stereotypes with her presence. She is also a performance artist, being the first woman to bring the Whirling Dance on stages in Jordan in contemporary format, and giving her own Wonders of Whirling Workshops spreading the practice to many more, especially women as well. In addition, she has been on the organizing team for two local festivals, and works as a facilitator worldwide.
Klaus E. Dietl is a visual artist with a background in literature and film-making. He studied painting and art theory at the Academy of Fine Arts Munich. In his paintings, sound installations, video and film projects he samples the elements of our daily media coverage, cuts them up and recombines them with other disparate graphical material. His main research focus is on barriers of language and the essence of misunderstandings. What makes us take off the blinkers and question our own insecurities, reservations and double standards? Amongst others his short films and music videos were nominated and screened at the International Short Film Festival in Oberhausen, Germany. In summer 2017 he finished his first full-length feature The Mouth – Our Ultimate Prison (Das letzte Loch ist der Mund). This film was premiered at the Lenbachhaus in Munich.
Links
Rawan Roshni:
Klaus E. Dietl: